Junior team who competed at the Pony Club Tetrathlon Championships at Bishop Burton, Yorkshire in August 2014:

Alice Elliott , Emma Killin & Liberty Fogden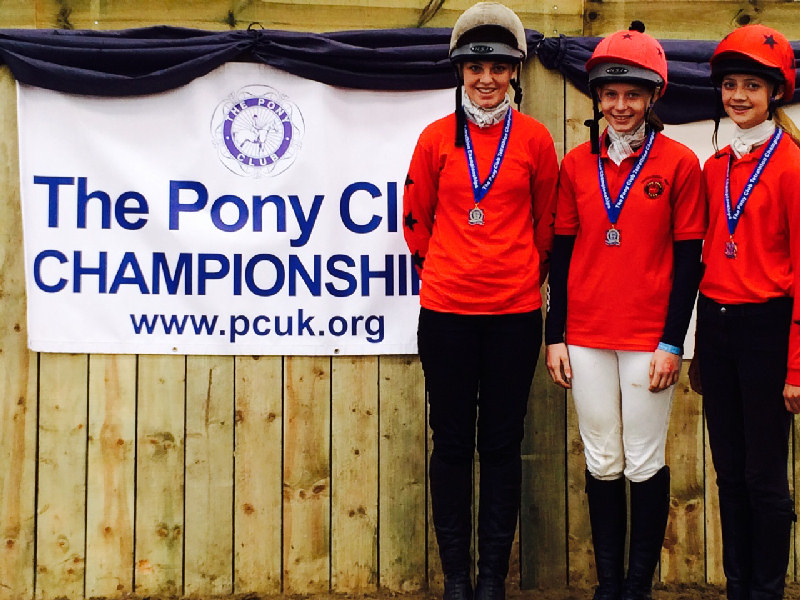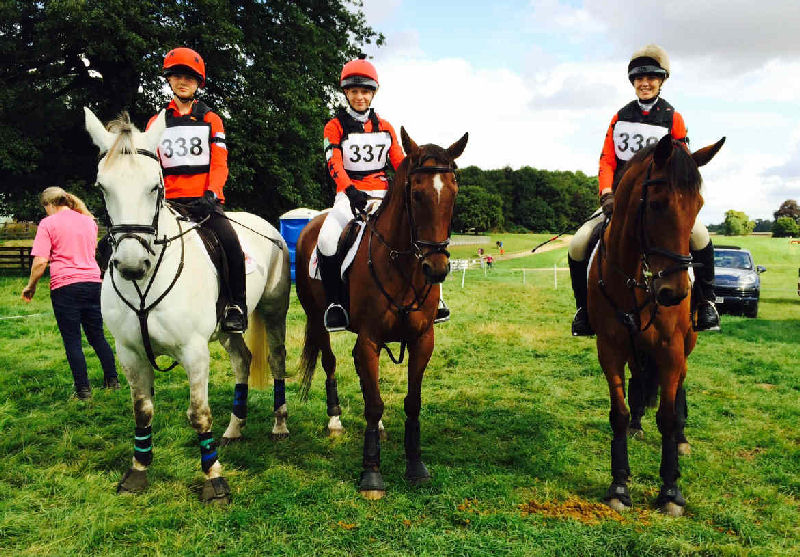 Area 12 Tetrathlon - July 2014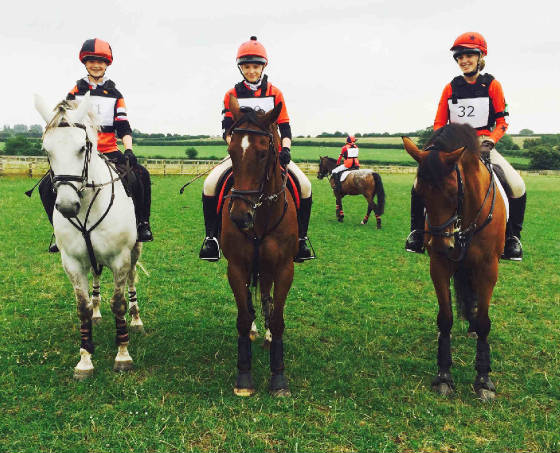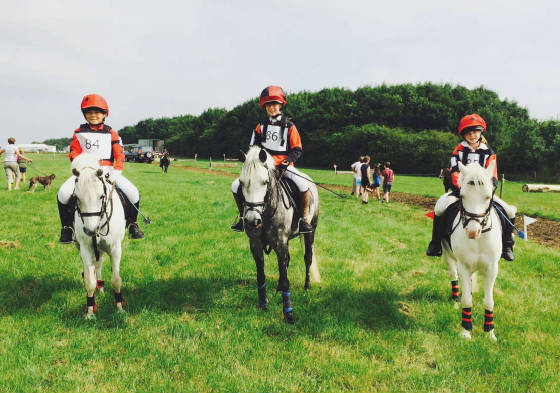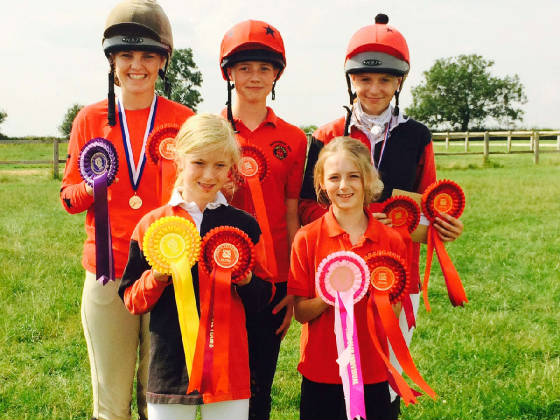 Tadpole Team Placed 2nd : Maggie Long 4th, Grace Kearvell 5th and William Heselton 6th

Junior Team Placed 2nd : Emma Killin 2nd, Best Shoot and Qualified for Champs, Liberty Fogden 6th and Best Shoot and Alice Elliot.

Well Done Everyone
---------------------------------------------------------------------------------------------------
The 2014 Pony Club Tetrathlon Championship dates have been set as follows:

Sunday 17th August – Officials Arrive

Monday 18th August – Competitors Arrive

Tuesday 19th – Thursday 21st August – Centre/Junior/Intermediate/Open Competitions take place

---------------------------------------------------------------------------------------------
Tet Report February 2014

"A cold windy February day saw the OBH Hughenden
Triathlon at Stoke Mandeville. Herts Hunt were ably
represented and the weather did nothing to dampen their
spirits.

In the Junior girls class, a second place in both swim and
shoot gave Emma Killin an individual 3rd out of 22
competitors and qualification to the Nationals! Well done
Emma! Alice Elliott, Trixie and Phoebe Heath all put in
solid personal performances which gave the girls a team
second.

Lewis Janes, Kristian Lyndsey and Seb Weston made up our
Minimus boys team. The boys had a tough field and whilst not
in individual ribbons, came first as a team.

We also had 2 Minimus girls competing for the first time,
Lily Boden and Cassidy Carter. Both girls did well in
a large field of 28 and achieved 5th place with a mixed
team.

Our single Tiddler was Maddie Weston, also competing in her
first Triathlon. She came joint first in the
Shoot and joint second in the run which gave an
overall 4th place along with a team 2nd!

As always the team were given great Support by Caroline
Killin as team manager, Brian Killin on loading
duty and parents. In keeping with tradition the
cheering from George Killin was the loudest & I'm
sure gave our athletes the edge!

Report by Paul Weston"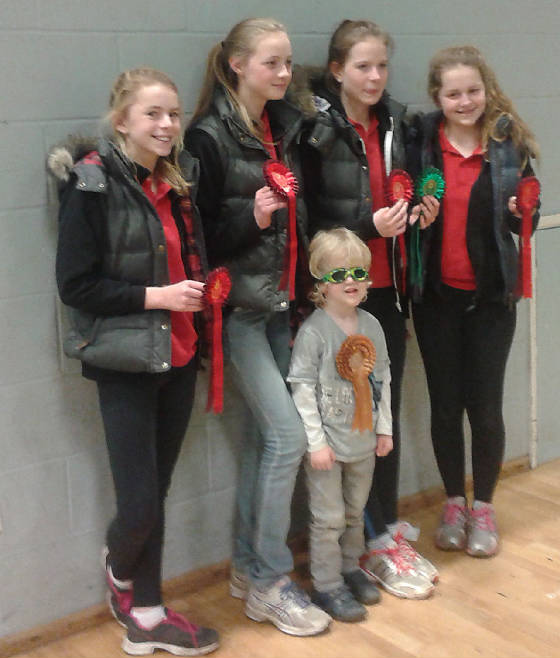 Herts Hunt Triumph Over Adversity

October 2013

Despite 1 lame pony, 2 broken down trailers/lorries, road closures and miserable weather conditions, the Herts Hunt Triathlon &Tetrathlon teams triumphed over the weekend of 19th/20th October.

Firstly Isabelle E's pony Corrie came in lame from the field meaning Isabelle had to swap from the ride tri to the swim tri. All swimmers put in a sterling performance with many PBs. Georgia Kearvell swam a whole length in her first ever triathlon and Isabel J, Phoebe H and Saoirse all picked up over 800 points each. As always the swimmers were ably supported by George Killin, whose cheers could be heard above all others!

Noteable performances in the ride came from Chessie, another on her triathlon debut, who at the last minute had to ride Georgia's pony Picasso as Po, her intended ride, was stuck broken down en route to the show. Chessie, who had never ridden Picasso before, did a wonderful clear round. Teddy, Grace K and Amelia also impressed, all jumping clear. The pigs were no problem for Mae this year, who jumped a really nicely flowing round, as did Alice, over what was a full up course for Mr Smartie.

In the shoot, Emma, Saoirse, Mae, Isabelle H & Lewis all shot really well with Isabel J and Lewis both getting PBs and Lewis winning the shoot overall for the boys. This was Trixie's strongest phase with Trixie scoring 740, to just beat her sister.

Instead of shooting the under 8's threw bean bags at a target and Grace K, Georgia K &Chessie all tied for 1st place on an impressive score of 880 out of a maximum of 1000.

The run was a killer with a steep hill at the start. Grace K, Isabelle E and Isabelle H all had fast runs to score over 800 points each.

Liberty performed consistently over all 3 phases to finish in 3rd place overall.

Final Results:

Under 8's Tri – Team came3rd overall Under 8 Tet

Isabelle E – 7th overall Grace K – 1st Bean Bag, 3rd overall

Chessie – 1st Bean Bag, 2nd overall

Georgia K – 1st Bean Bag, 9th overall

Tadpole Tri

Teddy – 15th

Mini Tri – Team came 1st overall Mini Tet – Team came 6th overall

Emma K – 2nd Mae –17th

Isabelle H – 1st Lewis – 1st in shoot, 12th overall

Amelia – 8th Isabel J – 23rd

Saoirse – 5th

Junior Tri – Team came 2nd overall

Phoebe H – 6th

Trixie – 10th

Alice – 7th

Liberty – 3rd

If you are interested in taking part in either triathlons or tetrathlons please contact Caroline Killin for details (bk_zim@yahoo.co.uk).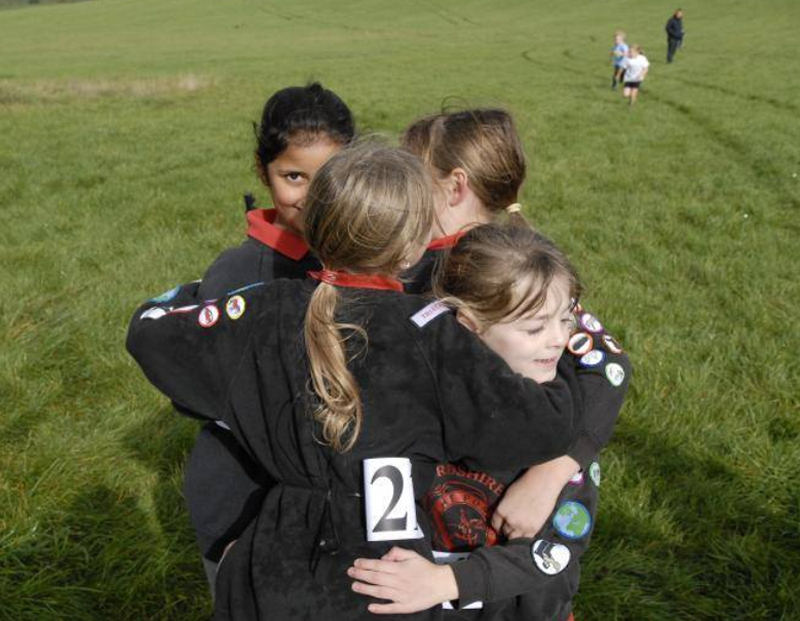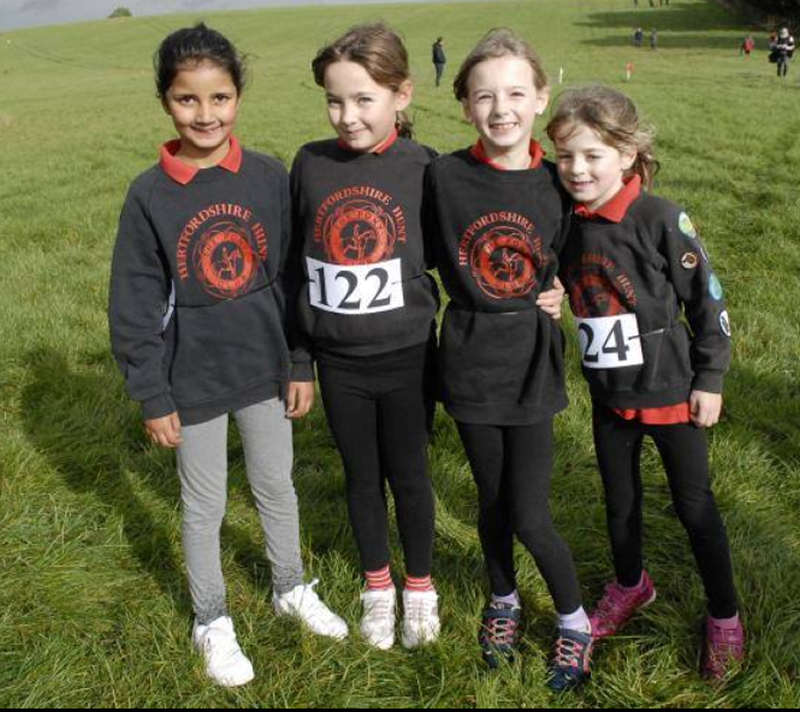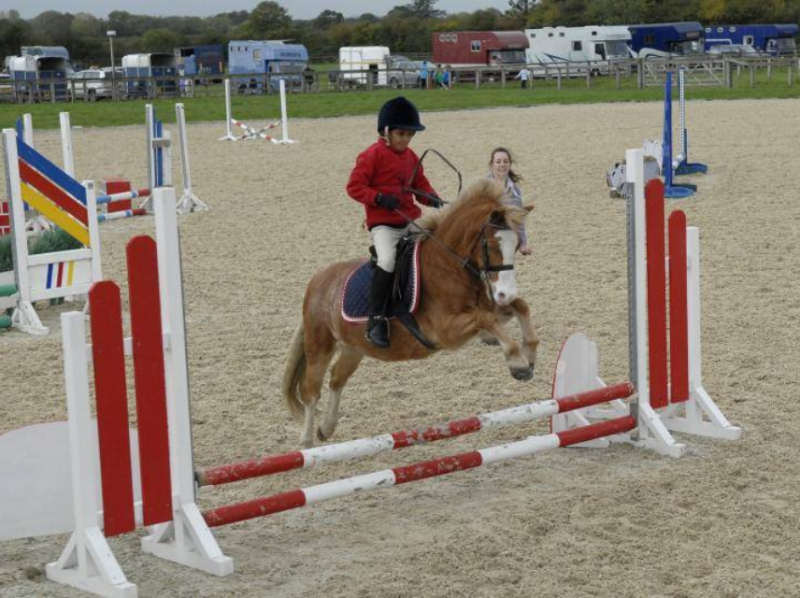 Area 12 Tetrathlon July 2013

The area 12 tetrathlon held in late July saw 6 members of the Herts Hunt gather at MK equestrian centre for Cross Country & shooting and run, with the swim held at a nearby leisure centre.

Liberty Fogden and Alice Elliot were our Junior girls. Both had solid shoots and swims, with a second place finish in the run by Liberty and a clear round in the Cross Country by Alice, helping the girls to good finishes in the ribbons; Liberty in 4th and Alice in 3rd.

The minimus girls were represented by Emma Killin and Saoirse Bermingham. Both girls performed well; Saoirse having a good Cross country score and decent performances in the run, shoot & swim. Emma, came an overall 2nd place with a 3rd placed swim; remarkable considering she competed with a pretty painful arm injury!

In the tadpoles, we had 2 competitors; Sebastian Weston and Teddy Fogden. Teddy competing in his first cross country ever, showed determination on the ride and put in a good solid run on a course with plenty of hills! Seb managed a consistent 2nd place in the run, swim and shoot, which with a clear round gave him overall first place.

As with all Tet and Tri competitions, our team were ably supported by George Killin whose cheers were louder than all the others put together -Well done George!

Thanks to Caroline and Brian Killin for organising and managing the team, as well as Anya Heath, Natasha Bermingham, Jo Weston & Jo Elliott's Mum who all volunteered to fence judge.

Report By: Paul Weston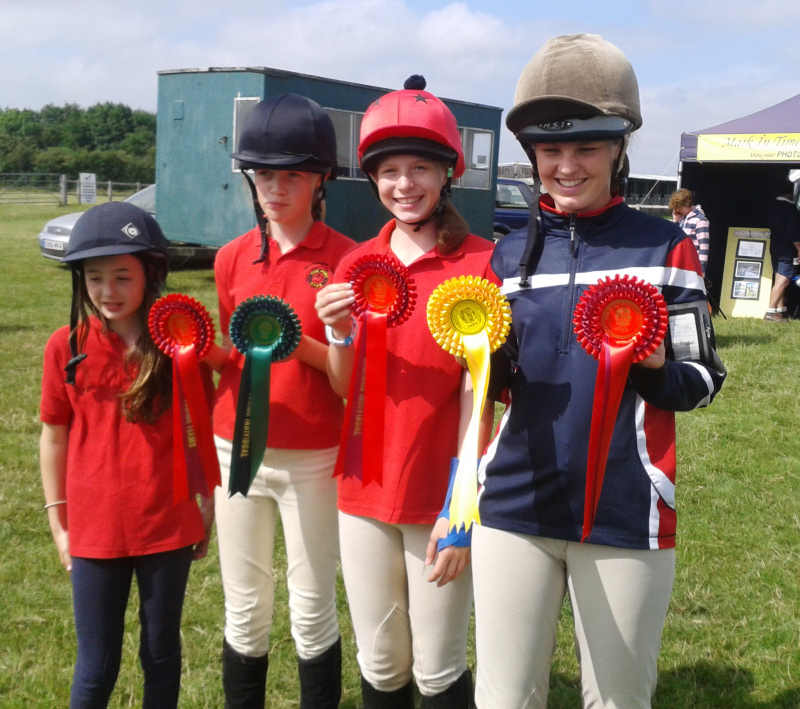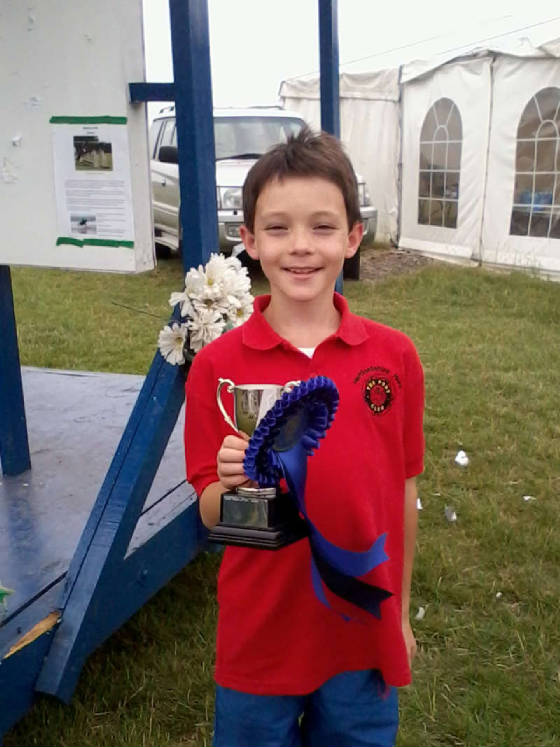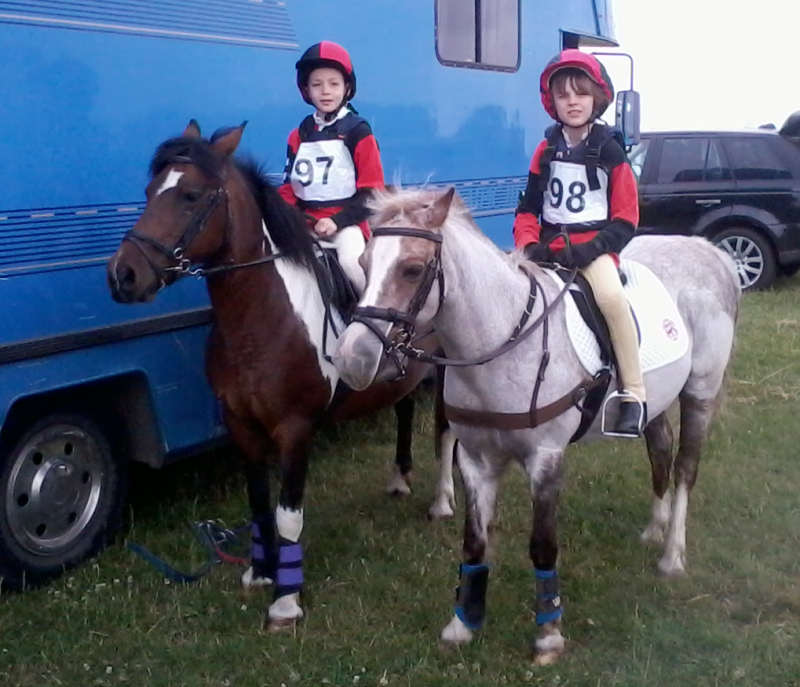 HERTS HUNT TRIATHLON TRIUMPH June 2013

On the 2nd June, there was a triathlon, held by Puckeridge Western.

In the Tadpoles Hannah Sutherland came 6th overall with a good swim, swimming over 3 lengths in 2 minutes. Anna Wallace came 4th, with a very good shoot score of 740; as a mixed team they came 8th.

In the Minis Mae Lindsell had a good shoot scoring 880 points out of a maximum 1,000 and came 1st overall, Isabel Johnson had a really speedy run being the fastest in Herts Hunt and came 3rd overall, Lewis Janesalso had a fast run and came 5th individually. As a team they came 6th.

For the Juniors Alice Elliot came 2nd overall and joint 3rd in the swim, swimming over 5 lengths in 3 minutes, Trixie Heath came 4th overall and Phoebe Heath came 3rd overall and joint 3rd in the swim, swimming an identical distance to Alice.

Well done to all the people that did the triathlon.

Also a massive well done to Isabel Johnson, Trixie Heath and Phoebe Heath, as it was their first ever triathlon!!!!

A big thanks to Caroline and Brain Killin for all the shooting practice and organizing Herts Hunt to do the triathlon!!!!!

Report by Mae Lindsell

---------------------------------------------------------------------------------------------------------
OBH Chiltern Tetrathlon & Triathlon – April 2013

The end of April saw Herts Hunt well represented at the OBH Chiltern Tetrathlon and Triathlon. Maybe it was the spring air finally kicking in, but there were some greatachievements - especially on the run.

In the under 8s we had a single competitor; Isabelle Engestrom. Isabelle finished only just outside the ribbons, but in this mixed class was the 2nd highest placed girl and finished a fantastic joint 3rd in the bean bag throwing.

Our tadpole girls achieved a team first and all three girls did exceptionally well in this their first triathlon. Anna Wallace finished individually 3rd, Hannah Sutherland finished in 6th to achieve an individual ribbon, whilst Maggie Long had a great swim. Well done girls!

The tadpole boys were represented by TeddieFogden and Sebastian Weston. Teddie did really well at the run and had a great swim –especially considering he was competing in an older age group for the first time. Seb finished with an individual 3rd place, helped by a 2nd place swim.

Our minimus boys –Kristian Lindsay (Individual 4th) & Lewis Janes (Individual 3rd), both put in good all round performances, Kristian gaining points in his run, with Lewis having a great shoot.

Our minimus girls took part in the tetrathlon; Emma Killin finishing clear in the ride and second in the swim, to achieve overall 2nd Place. Mae Lindsall had a challenging ride, but didn't let that get the better of her remaining events; giving what can only be described as the most spirited run of the day; knocking almost a minute off her personal best and finishing with a fantastic 200m sprint!

Last but not least Brian Killin competed as our sole adult. A first placed swim, 2nd placed shoot and 3rd placed run gave Brian a great 2nd overall –an inspiration to the rest of us!

Lastly, no Tet/Tri would be complete without thanking Caroline and Brian Killin, both for their team management and organising countless shooting practises, and all the parents who look after George Killin on the day.

Report by: Paul Weston

-----------------------------------------------------------------------------------------------
----------------------------------------------------------------------------------------
Herts Hunt showed winning form at OBH Chilterns Triathlon and Tetrathlon

The under 8's triathlon team of Teddy Fogden, Henry Atkins and Sebastian Weston started the celebrations for the Herts Hunt teams with their super performance. All the boys threw very well and new recruit Sebastian won the throw. All three boys put in consistent performances in the running and the swimming achieving a total team score of 5308 which gave them first place rosettes! Well done the under 8 boys.

Amelia Fogden was our contender in the Girls Tadpole triathlon, she put in an excellent all-round performance which lead to her being awarded third place. A well deserved prize for Amelia.

Our Girls Tadpole Tetrathlon Team of Isabelle Hoar, Rosie Atkins and Emma Killin put in a tremendous performance, they all achieved maximum points on the ride. The three girls put in a marvellous effort achieving great scores in the swimming, running and shooting to finish on an overall team score of 10996!

This super score put them in second place in the team competition, so rosettes all round! Glory for the girls did not end there, they did so well that they also achieved individual rankings. Rosie Atkins' consistent performance led to a good total score only narrowly missing the individual placings. Emma Killin collecting a 3rd place rosette and Isabelle Hoar a 2nd place rosette for their individual total scores. Super sporting performances.

Our 'Mini Girl' was Liberty Fogden. She put in a really good performance especially in the shooting which led to her overall score giving her second place. Well done Liberty!

Herts Hunt parents also achieved greatness on the day. Caroline Killin and Mike Atkins put in solid all round performances showing great promise with Mike 5th overall and Caroline just short of the ribbons. The sporting hero amongst the adult competitors was Brian Killin. He won the shoot and the swim and came first overall. Perhaps a dark horse for 2012!

It was a really wonderful day for Herts Hunt show casing their sporting talent. The well run event was enjoyed by team members and supporters alike.

Report by Debbie Hoar.

-----------------------------------------------------------------------------------------------------
PUCKERIDGE WESTERN PONY CLUB

TETRATHLON

Saturday 5th June2010

Herts Hunt Heroes !

Herts Hunt fielded an enthusiastic team at Gravely last weekend. We had a team of Tiddler girls comprising Mae Lindsell, Emma Killin and Isabelle Hoar. Jimmy Mitchell was competing in the Minimus boys. In the Junior girls section Charlotte Duggan and Ellie Mitchell represented Herts Hunt with Jess Pringle in the Intermediate girls.

It was a very hot day and the Tiddler girls started with the running, 750 metres, much of it uphill over rough ground. Mae still recovering from illness ran valiantly as did Emma and Isabelle. Isabelle was the fastest girl and achieved a second place for the run. The girls all did well in the target throw with Isabelle coming 2nd. The Tiddler X-country involved the girls doing a slip rail and a gate, they achieved three super clear rounds. It was great to see Mr. Pickles (Mae's pony) back on form after being so unwell before Christmas. Emma came first in the Tiddler swim, Mae and Isabelle also swimming well.

Jimmy came third in the boys Minimus run and also shot well. When he was waiting to begin his X-country phase he realised he had walked the Tadpole course so he quickly revised his new route and, not content with moving up to the Minimus course he also jumped one of the junior jumps! What a really determined and gutsy ride by Jimmy.

Charlotte and Ellie both shot and ran well before setting out over a challenging Junior X-country course. Dougal although not helping Ellie very much at the beginning and stopping at a couple of fences soon got into the swing of things and came storming home finishing in great form. Charlotte also had a super round coming home clear.

Jess ran and shot well finishing high up the order before moving to the very testing X-country phase where she gave a sterling performance with just one run out at the skinny.

With so many great performances on the day Herts Hunt figured frequently in the prize giving. The final tally was; Tiddler girls, Mae, Emma and Isabelle all receiving clear round rosettes. Emma, a 1st place for the swim and 6th overall, Isabelle, 2nd place for the run and throw and second place overall. Jimmy in the Minimus boys, a 3rd place for the run and 6th place overall. Charlotte a clear round rosette in the Junior girls and 7th overall. Jess in the intermediate girls a 2nd place in all phases with of course second place overall.

It was a tremendous team effort on a very hot day leading to greatly deserved success. Well done Herts Hunt Tretrathletes!

If you wish to find out more about triathlons or tetrathlons contact Caroline Killin on 01296 661368 or email bk_zim@yahoo.co.uk.

-------------------------------------------------------------------------------------
OBH Chilterns Tetrathlon April 2010

Broken bones, exploding volcanoes and punctured tyres meant that a depleted contingent entered the first tetrathlon of the season at Great Westwood Park and Chesham Sports Centre over the weekend of the 24th/25th April.

The competition started on the Saturday with the cross country phase. Emma Killin was first to go for our branch, competing in her first ever tetrathlon. Her pony William was on top form and they came home clear. Jimmy and Ellie Mitchell and Charlotte Duggan also had good rounds, Jimmy jumping a bigger course than usual as he has moved up an age group and Charlotte going clear apart from technical penalties awarded at the slip rail.

The remaining 3 phases were on the Sunday. First was the shooting where Ellie scored a whopping 820 out of a maximum 1000 and Emma got a PB of 740.

Next was the run. Both Jimmy and Ellie had cracking runs despite a minor initial panic as Jimmy had lost his shorts (later found about his person!). Lastly came the swim. Emma fought off strong opposition to come 2nd with a PB of 928 points. Injury meant Ellie came in 3rd in her heat and Charlotte battled bravely with goggle trouble to overtake Ellie and come in 2nd.

Final placings:

Emma 3rd overall

Jimmy 4th overall

Next competition: Puckeridge West on 5th June.

If you would like more details on triathlons or tetrathlons or would like to take part, contact Caroline Killin on 01296 661368 (bk_zim@yahoo.co.uk).

-----------------------------------------------------------------------------
Triathletes Triumph at Thame

A cold but dry morning saw 7 of our bleary eyed members exceed expectations the day after the clocks changed (28th March). All but 2 having moved up an age group from last year meant that they had to shoot competitively for the first time.

The day started with the run, 1000m for tadpoles (8 and 9 year olds) and 500m for tiddlers, (under 8's). Brandon ran a fast race to finish 3rd in his age group. There was then a nail biting moment with phone calls back and forth to direct the O'Briens to the Sports Centre. Despite missing their run times the kind organisers allowed them to run late, when Gerry ran a really fast race in 4 minutes 15 seconds (2nd).

Next was the shooting and beanbag-throwing phase. Sadie was first to shoot for our branch with what proved to be an unbeatable score of 780. The weekly training sessions clearly paid off with some excellent first time scores from Emma, Isabelle and Freya, despite the team mascot (George) deciding to sing when it was their turn to shoot!

The final phase was the swimming, 2 minutes for tadpoles and 1 minute for the tiddlers. Emma was first to go for our branch when she shot through the water to win her heat. This lead was maintained until the last 2 heats when the overall winners, OBH Chilterns, pipped her at the post. Freya and Gerry also had good swims, both finishing in the top ten.

Final results were:

Tadpole Shoot 1st – Sadie Lupson

Tadpole team 2nd – Sadie, Isabelle Hoar, Emma Killin

Tadpole team 6th – Freya Wynne, Ann O'Brien, Gerry O'Brien

Tadpole Individual Girls – 4th Emma

5th Sadie

Tadpole Individual Boys – 2nd Gerry

Tiddler team 2nd – Brandon Lupson (with other branch members)

Tiddler Individual Boys – 4th Brandon

If you would like to take part in tetrathlons or triathlons, contact Caroline Killin on 01296 661368 or email bk_zim@yahoo.co.uk

------------------------------------------------------------------------------------------
The first triathlon competition of the season kicks off on Sunday 28th March at Thame.

For those of you new to the pony club and/or triathlon this is a 3 phase competition, swimming, running and shooting, open to all pony club members aged 8 or over on the day of the competition. Unusually so, for the first time this year's competition is also open to under 8's who do bean bag throwing instead of shooting. (In my experience members aged 6+ should be able to cope; they must be able to swim unaided, i.e. without arm bands etc and run 500m).

The competitions are good fun and a great way to meet other members that you might not ordinarily come across.

A little later in the spring triathlon competitions can be combined with XC jumping to make a tetrathlon.

All competitors compete as individuals and where possible in teams of 3 or 4. For this reason all entries have to go through the team manager (me, Caroline Killin) to organise the teams.

Training for all three phases can be arranged if required.. Let me know if you are interested in swimming and/or running training. Contact Paul Gibbins 01525 220129

ps.gibbins@zen.co.uk

to arrange shooting practice (cost £2 a session).

Attached to this e-mail is the schedule for the Thame competition.

If anyone would like to take part please:

a) let me know in the first instance by email

b) send me a cheque made payable to SOHC Pony Club. DO NOT SEND THE CHEQUE OR ENTRY DIRECT. Please note I will only enter people if I have received their cheque prior to entry. Please also ensure all cheques are with me by 10th March so that I have enough time to pull everything together and send it off..

New competitors will also need to let me know whether they are right or left handed and whether they can dive to competition standard.

My address is:-

1 Alnwick Farm Cottages, Long Marston, Herts. HP23 4RA

If anyone has any queries please call or e-mail me; my number is 01296 661368.

Dates for your diaries:

14th February - triathlon run by Fitzwilliam PC in cambridgeshire; if anyone is inetersted in doing this please let me know by return and I will try and obtain more details for you

21st February - triathlon run by Warwickshire PC at Warwick; again, if anyone is inetersted in doing this please let me know by return and I will try and obtain more details for you. I belive there is an under 8s class

21st March - fun family target shooting practice - see latest event planer for details (ages 6+)

3rd April - XC training at Milton Keynes EC; see latest event planner for details

5th April - XC training at Great Westwood; see latest event planner for details

14th & 15th April - residential tri and tet training for those aged 14 or over - let me know urgently if you require more info etc

24th & 25th April - tri and tet at Chesham and Great Westwood; schedule to follow shortly. Again, under 8's class available.

8th & 16th May - tri & tet at Wing, Stoke Mandeville and Milton Keynes EC. Under 8's class available plus some classes open to non members; details to follow.

24th & 25th July - Area 12 Qualifier at Great Westwood; all classes from tadpoles (8+) upwards. Intermediate and Open classes qualify for championships

20th to 22nd August - Championships at Hartpury (Intermediate and Open only)

25th September - new triathlon held by Vale of Aylesbury; no other details as yet

Finally, if you have no interest in competiting in either triathlons or tetrathlons this year please let me know and I will delete you from my mailing list.

Caroline Killin